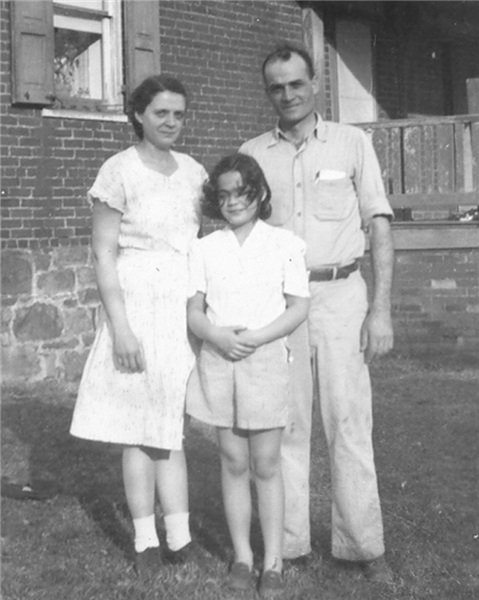 Roger and Olive Roop
Union Bridge, MD
As WWII came to a close, many dedicated, hardworking families stepped up to build towards a vision of a better world - efforts which became the foundation of Heifer International. Roger and Olive Roop were two such inspiring individuals, transforming their family farm into an all-hours Heifer Project cattle collection point for shipments abroad. Without changemakers like the Roops, Heifer International would not be where it is today.
Their daughter Patricia Roop Hollinger kindly shared their story with us:
"'Why did I bring a child into the world during this war?' was a question mother asked after my birth in 1939. My parents, Roger and Olive Roop, were both reared in the Church of the Brethren where they were conscientious objectors to all war.
Because Dad was a farmer and a conscientious objector he did not see action in the war. The horrors of war disturbed my parents. What could they do? They soon learned that Dan West, another Church of the Brethren farmer, shared these same concerns and proposed that the many farmers in the Church of the Brethren could donate a heifer which then would be sent to war-torn Europe. He had witnessed children drinking powdered milk and desperately wanted them to have the real thing.
My parents became aware of this dream so they offered their farm, located near Union Bridge, Maryland, to be the gathering place for these heifers. Our farm was only 40 miles from the Port of Baltimore and they could enlist the needed help from the conscientious objectors who were serving their military time at the Church World Service Center in nearby New Windsor.
Heifers began to come to our farm through myriad methods of transportation. There were necessary inoculations to be administered before they could be shipped abroad. Cattle had to be dehorned. A nearby veterinarian donated his services and truck driver donated his. Neither of them were members of the Church of the Brethren, but they shared this mission. Riding along to Baltimore, as an eight-year-old I became enthralled watching heifers being dehorned and cattle being lifted into the bowels of the ship.
Classmates informed me that my parents were being paid big bucks by the Communists. My parents assured me that was not the case, so my hopes of having more store-bought clothes were dashed. Directional signs to our farm were frequently destroyed. On two occasions the cattle were stampeded. On one of those occasions my father was in their midst, certain that was where he would perish. However, he cupped his hands and screamed as loud as possible. The cattle swerved around him and he lived to tell the story.
Sadly, in 1948 my father became quite ill. I still have the image of him lying in a bed at the University of Maryland Hospital, which was frightening for me. Why, my father was never ill! The diagnosis was undulant fever which he had contracted from one or more of these heifers. Our farm could no longer be holding place for cattle. Between 1944 and 1948 3,600 cattle were processed through our farm before being shipped to war-torn Poland and Germany.
Later my parents visited Germany and met one of the German prisoners of war who worked on our farm during that era.
That Heifer Project is now the world renowned Heifer International."
Roger and Olive Roop each lived a life of purpose that served them well; Roger passed away in May, 2001 at the age of 91 and Olive, in April 2017 at the age of 103.