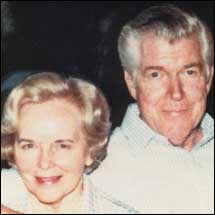 Robert and Sarah Carnahan
Little Rock, AR
Dr. Carnahan was a psychiatrist by profession. He battled cancer for several years, but his illness did not stop him from attending Heifer's events. After he passed away in 1994, his wife Sara kept attending occasionally Heifer Trustee dinners.
Dr. Carnahan used his education and skills to help those less fortunate at Arkansas State Hospital. They were people of faith, active members of Pulaski Heights Baptist Church. Their niece, Carol McMath of Little Rock, says, "They were very interested in other people and the world around them. They particularly invested themselves in helping young medical students." Sara Elisabeth was "a big birder", remembers Carol, and the couple loved to travel and supported conservation efforts and causes.
A friend introduced the Carnahans to Heifer, and they felt an affinity for the organization that facilitated values they held dear - conservation and a love of people. When they began estate planning, and as Dr. Carnahan battled cancer, they recognized that Heifer Foundation offered them a way to do several important things at once: by establishing a charitable remainder trust, funded by stock they owned, they could provide immediately for Dr. Carnahan's medical expenses, provide income security for Sara Elisabeth after he was gone, AND provide for those less fortunate around the world after both had died.
Heifer Foundation was only one of several beneficiaries of the Carnahan's Charitable Remainder Trust. After both the Carnahan's passed away, the portion of the trust designated for Heifer was used to establish a memorial endowment to benefit Heifer's work in Rwanda and/or Uganda. "I am so grateful that the proceeds of this endowment will go there and that through this work the people of Rwanda will have hope and health. This is a wonderful legacy for my dear aunt and uncle who all their lives concerned themselves with meeting the needs of other people," says Carol McMath.
Today, years after the Carnahans' passing, they are still embracing strangers in need across the globe, spreading their love and hope in Rwanda and Uganda. Every year, the endowment generates enough income to potentially lift as many as 25 families out of hunger and poverty. That's what we call a never-ending love story.