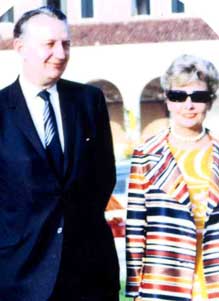 Ott Coelln
Ames, IA
Coming from a background in journalism, education, and business, Coelln held an early assortment of jobs, including junior public relations man, advertising manager for a club hotel, printer, teacher, and journalist. He founded the magazine Business Screen in June 1938 and served as its editor and publisher for thirty years. Under his leadership, Business Screen became the primary trade journal for the business and industrial film community, and in 1945 received the Industrial Marketing Award as the nations' best-designed business magazine. Coelln also pioneered a similar publication, See & Hear, for the educational film industry. During World War II, he served as an industry coordinator to the War Production Board an informal advisor to the American Library Association on selection of films suitable for the ALA's nationwide film loan facilities.
Coelln has also been active in the establishment of organization for the promotion of business and educational film. He was a founder of the Industrial Audio-Visual Association (IAVA) in 1947 and received its Service Award in 1953. He assisted in the founding of CINE and the American Association of Film Producers as well, and was rewarded with documentary and other factual films, Coelln joined with Steve Knudsen, then director of the Media Resources Center at Iowa State University, to help establish the American Archives of the Factual Film in 1974.
For these achievements in the field of non-theatrical film, Coelln was awarded the Eastman Kodak Gold Medal by the Society of Motion Picture and Television Engineers in November 1992. His papers consist largely of correspondence with and concerning the AAFF. Also included are records concerning grants for the archives, various drafts of the AAFF Index and a manuscript authored for the AAFF by Charles "Cap" Palmer, film-strips and miscellaneous vendor catalogs and reference sources.
Many families will be assisted through the contributions Ott Coelln made to Heifer International Foundation.