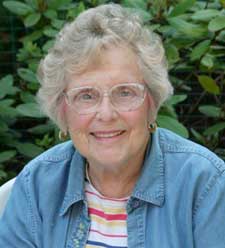 Emily Campbell Brown
Mansfield, OH
Emily Brown, a gracious and tireless advocate for social justice and racial equality, died at her home on February 2, 2009. She was 88.
A daughter of the South, Mrs. Brown settled in Mansfield as a young newlywed. Her gentle Southern manner belied a firm resolve to make her community a better place for all its citizens. First through work with organizations such as the YWCA, Habitat for Humanity, and the Ohio Hunger Task Force, and later through politics, she found ways to effect social change throughout her life.
Born Mary Emily Campbell on July 8, 1920, in Mansfield, Georgia, she was the sixth child of Sherrod and Bertie Campbell. Always known as Emily, she dropped the Mary when she married Mansfield, Ohio physician Dr. Charles G. Brown, Jr., taking her husband's name to become Emily Campbell Brown.
She was proud of her Southern heritage and throughout her life considered herself a Southerner. Yet from a young age she could see horizons far broader than those of the rural South of her childhood. After earning her B.A. from Wesleyan College in Macon, Georgia (which she often pointed out had continuously granted degrees to women longer than any other American institution of higher education) and briefly teaching high school English in Georgia and Florida, she set off during World War II for Washington and went to work for the Foreign Economic Administration.
Mrs. Brown met her future husband in Washington, and in 1946, she and Dr. Brown married at her family home in Mansfield, Georgia. The couple settled in Mansfield, Ohio, where they had three sons. Her husband was from a prominent Mansfield family, and they named the first two sons – Robert Clarke Brown and Charles Gailey Brown III – for Brown family members. But when the third son came along, Mrs. Brown suggested naming him after her father. More than half a century later she would see her father's namesake, Sherrod Campbell Brown, elected to the U.S. Senate.
Mrs. Brown adapted quickly to her new home in the North. Initially, she threw her energies into activities related to her husband's work; she became president of the Auxiliary to the Richland County Medical Society, and she chaired the Mother's March on Polio.
But soon she set off on her own course. In the YWCA, where she worked closely with her mentor Mansfield YWCA executive director Helen Mulholland, Mrs. Brown found a vehicle for her deep passion for social justice. She was twice president of the Mansfield YWCA, serving on its board for a dozen years, and was also president of the Ohio Council of YWCAs. She was a delegate to three national YWCA conventions and also a delegate to the 1972 YWCA National Convocation on Racial Justice in New York. When, to her great disappointment, Mansfield's YWCA closed, she transferred her membership to the Elyria YWCA, of which she was a member for the remainder of her life. Mrs. Brown was also on the board of the Mansfield Inter-Church Council, served as vice president of the Ohio Hunger Task Force and, along with her husband, helped found the Richland County chapter of Habitat for Humanity and served on its board.
As her sons grew up and became interested in politics, Mrs. Brown discovered her own talents in that arena. She played a major role in their winning political campaigns, starting with Sherrod's first race for public office, for State Representative in 1974, and later in his race for Ohio Secretary of State in 1982 and in Charlie's campaign for West Virginia Attorney General in 1984. A compelling public speaker, she was Sherrod's most popular surrogate on the 2006 campaign trail, often appearing on his behalf during the Senate campaign. A life-long Democrat, Mrs. Brown delighted audiences with the story of casting her first vote in 1944 for Franklin Roosevelt.
Her political talents were not devoted exclusively to her sons, however. Mrs. Brown was an elected member of the Mansfield City Charter Review Commission and a Richland County Democratic Party Committeewoman, serving on the party's central and executive committees. In 2007 she played a major role in helping elect Mansfield's first African-American Mayor, Donald Culliver. She nurtured young people and encouraged them to get involved in politics, and her counsel and support were much sought after. In 2007 the Richland County Democratic Party established the Emily Brown Young Democrat Award in her honor.
Even as others increasingly looked to her for leadership, Mrs. Brown never avoided the mundane work that is so critical to success in politics. During the 2004 Presidential campaign, she loaded a card table into the back of her car, set it up every day in front of a local grocery store, and registered more than 1,000 new voters. During the 2008 political season, in the last year of her life, while co-chairing the campaign committee for the local senior services levy, she also found time to work regularly at the Richland County Democratic Headquarters.
Mrs. Brown was preceded in death by her husband of 53 years, Dr. Charles Gailey Brown. Together, with their combined gifts they established the Charles Gailey Brown Memorial Endowment. Interest from this endowment will be made available to Heifer International on an annual basis to support their work of providing poverty stricken families with the means to better their lives, sustain themselves, and strengthen their communities.