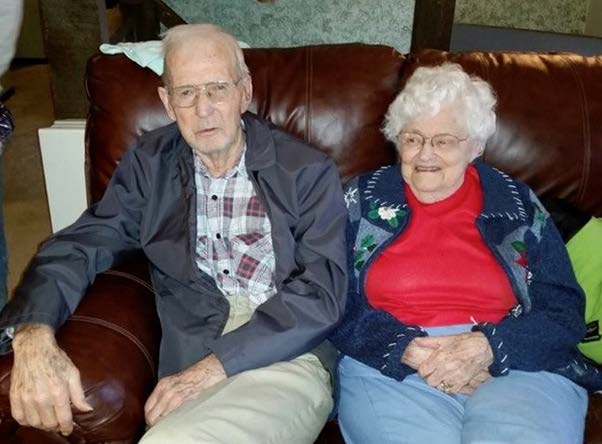 Don and Wilda Brock
Topeka, KS
Wilda (Horton) Brock was born August 10, 1925, in Blue Mound, KS, the daughter of Clarence T. and Edith C. (Sunderland) Horton. She graduated from Blue Mound High School and then went on to obtain her BA in Education from The University of Kansas. Wilda taught at Wakeeney School District and the Topeka Public Schools; at Highland Park Junior High, Eisenhower Junior High, Roosevelt Junior High, Robinson Middle School, and was the nutritionist for the Follow Through program.
Don Brock was born July 5, 1926, in Blue Mound, Kansas, the son of Leonard and Sarah Evelyn (Mann) Brock. He enlisted in the US Naval Air Corps where he served from 1944-1946. He received his Bachelor's Degree in Agricultural Education from Kansas State University and a Master's Degree in Educational Administration from Emporia State University. He chose to remain in the classroom for fifty years rather than joining the administrative ranks. He taught vocational agriculture at Yates Center High School and Highland Park High School before transferring to the Kaw Area Technical School where he established an occupational exploration program for special needs students. Upon his retirement from KATS, a conference room was named in his honor.
Don and Wilda were married on June 6, 1948 in Blue Mound, KS. They were long-time members of Central Presbyterian Church. He and Wilda served as both First Mates (vice-presidents) and Skippers (presidents) of the National Presbyterian Mariners couples organization.
In addition, Don served terms as Moderator and Vice-Moderator for the Presbytery of Northern Kansas (1981-1982); was a member of a variety of committees for the Synod of Mid-America (1985 - 1996); was a member of the National Communications Commission of the Presbyterian Church (1970 - 1973); served as the Presbytery commissioner to the Presbyterian Church General Assembly (1963 and 1976); and fulfilled both volunteer and director roles from Mission Work Camps in Sitka, AK; Montreat, NC; Sterling, KS and Parkville, MO (1986 - 1995).
Don was inducted into the Kansas Teachers Hall of Fame in 1998. He spent 39 years as a high school and small college football and basketball official and was inducted onto the Highland Park High School Sports Wall of Honor in 2002. In his spare time, he owned and operated a small business, 4 Something Concrete. He was recognized by the Division of Rehabilitation Programs and Projects with Industry for his work with citizens with disabilities and served two terms on the Board of Directors for the Children's Foundation of Mid-America, St. Louis, MO.
Don and Wilda are survived by two children, four grandchildren, and eight great-grandchildren.