By Jessica Ford, global communications manager
Every year, the Heifer Foundation honors an individual who shows a personal and professional commitment to helping the poor and hungry throughout the world. The Dan West Fellow Award has been presented to a long list of fantastic people from every walk of life, who represent many roles and relationships to and with Heifer International. Dan West, Heifer's founder, maintained throughout his life a deep commitment to helping the poor, Passing on the Gift®, and securing a commitment to sustainability by helping people help themselves. When selecting winners for the Fellow Award, nominees must also epitomize this commitment. This year, the Heifer Foundation is pleased to announce that the Dan West Fellow Award goes to Stephen Mondora.
Stephen (Steve) Mondora served as an at-large Director for Heifer International from 1999-2011. Also a former Vice Chair and Chair of the Board, Steve served in each role for the maximum time permitted by Heifer by-laws. He is also a former Trustee of the Heifer International Foundation.
Steve's service to Heifer began long before his formal leadership roles. He and his wife of 56 years, Carolyn, first learned of Heifer during a casual conversation with an acquaintance in 1978, which led the Mondoras to become donors. After Steve retired, he and Carolyn began looking for meaningful volunteer opportunities and decided on Heifer. In the fall of 1993 they became full-time Presbyterian Mission Volunteers at the Heifer Ranch, serving as co-directors of, at that time, Heifer's National Distribution Center. They were responsible for procurement, warehousing and distribution of all program materials, literature and promotional products sold or donated to individuals, churches and other organizations.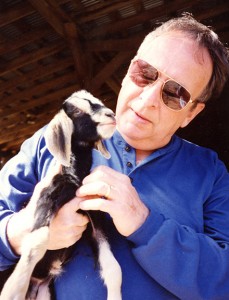 Steve and Carolyn's time at the Perryville, Ark. Ranch was some of the best of their lives. They saw Heifer blossom and bloom while living in Perryville, and certainly got to know the ins and outs of Heifer in fun — and sometimes challenging ? ways.
Steve loves to reflect on the creative solutions they came up with to get stuff done when money was scarce. "We would collect boxes from grocery stores around town, turn them inside out so people couldn't see the labels, and use them to ship boxes of materials from the distribution center. Eventually, we started ordering boxes with our name on them because the demand was so great. One time we needed packing paper and went to a local newspaper and asked about the extra paper from their printing rolls, which is normally either scrapped or recycled. We offered to buy it and told them about Heifer. Once they understood the mission, they gave us the paper for free."
When the distribution center wasn't busy, Steve would help out all over the Ranch. With his civil engineering background, he helped survey the site for Hersch Lodge, and he was one of the many volunteers who constructed the entire building. To accommodate Heifer's very rapid growth and before the new headquarters was built, he frequently helped with remodeling projects at the old Louisiana Street building.
While at the Ranch, Steve also saw and contributed to the start of some innovative activity for Heifer. He helped establish Heifer's first toll-free (800) number and the automatic routing system for regional offices. He and Carolyn managed the distribution center during a time of tremendous growth for Heifer. "When we first started, we would be doing well to ship three boxes a day. After about 18 months, sometimes we filled two UPS trucks in one day. That's how much Heifer grew in such a short period of time."
Steve also saw the organization through its digital beginnings. In 1994, he was walking through the halls of Heifer headquarters in Little Rock, Ark., when a staff member summoned him to look at their computer screen, where they'd just laid out the very first Heifer website. "That was the beginning of something so huge. And to see how the organization has materialized into what it is now is truly amazing."
In his leadership roles with Heifer, Steve saw the organization evolve from a small, struggling charity to the highly successful, sophisticated development organization it is today. He played a major role in developing Heifer's brand (the now familiar jumping cow logo you know today), as well as acquiring the land and negotiating for the current headquarters and buildings at 1 World Avenue. Steve also served on the committee that brought current President and CEO Pierre Ferrari to Heifer when long-time President and CEO Jo Luck announced her retirement.
"Steve is so well-deserving of this award," says Luck. "His life truly embodies Passing on the Gift. He and Carolyn have given so unselfishly, and we are the better for his leadership, generosity, and unwavering dedication to a better world. I congratulate him wholeheartedly."
"All the people I worked with at Heifer as a volunteer and board member, without exception, were so dedicated," says Steve. "We all just knew that what we were doing was special. The teamwork and cooperation was amazing."
Steve regularly references something he calls a Heifer Heart. "It means that you deeply understand the mission of ending hunger and poverty and that everything you do focuses on how to support that mission. If it won't help feed hungry people, or have some strong connection to that, then you shouldn't do it."
As a Board member, Steve visited several Heifer projects, including the Navajo Nation site (formerly run by Heifer's USA program), Ecuador, and Poland. He and Carolyn went to Poland on their own dime. "We were supposed to be part of a study tour that was cancelled; but we decided to go anyway by ourselves." While there, they joined a Heifer program officer to visit sites on routine monitoring trips. This is where Steve got to see the real power of Heifer in communities. "When they found out that a Heifer representative was in town or nearby, they got so excited. They wanted to honor us, feed us, visit for hours, and thank us for all Heifer had done for them. We were greatly honored by their hospitality!"
Steve credits his wife Carolyn with finding Heifer and changing the track of their lives, but the Heifer fever wasn't hard for him to catch. "I wouldn't have ever been part of this had it not been for her," he shares. "She followed me all over the country for my work. When I retired and we were deciding who to do, she wanted to go to Perryville with Heifer. This was my chance to follow her—and by following her passion this time, it forever changed my life."
Today, you can find Steve and Carolyn still passionate about Heifer and issues of world hunger. They are residents of Fort Myers, Fla., and are quick to share the work of Heifer International with friends, church groups, or anyone else who will listen. This passion, combined with his willingness to volunteer and serve on Heifer's board for so many years, makes Steve a well-known name and face in the Heifer halls and Ranch stalls. His work laid the foundation for so much about Heifer today. His long standing commitment to Heifer International sets the bar high, making him well worthy of the title: Dan West Fellow.