Heifer lost one of our own Saturday, September 5. Stephen Anthony Mondora, former at-large director for Heifer International, passed away in Ft. Myers, Florida. He was 79.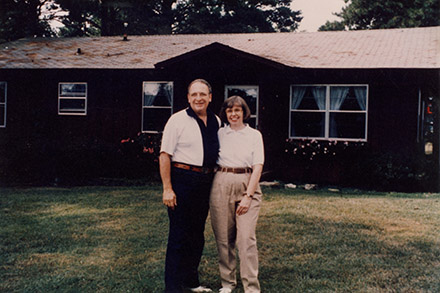 When a casual conversation with an acquaintance introduced Steve and his wife Carolyn to Heifer in 1978, they became donors. After retirement, they started considering meaningful volunteer opportunities, and they chose Heifer. This choice led them to Heifer Ranch in Perryville, Arkansas, in 1993. As full-time Presbyterian Mission volunteers, they managed the procurement, warehousing and distribution of all program materials, literature and promotional products sold or donated to individuals, churches and other organizations. Over the years, they saw Heifer evolve from a small, struggling charity to the successful development organization it is today.
Heifer Foundation President Ardyth Neill remembers first meeting the Mondoras at Heifer Ranch in 1996. "Steve promised Carolyn that after he retired they would do what she wanted to do," she says. "Carolyn was the catalyst for their work for and love of Heifer."
Steve's stint as Heifer's at-large director lasted 12 years, from 1999-2011. He was also vice chair and chair of the organization's Board of Directors, serving in each role for the maximum time permitted by Heifer by-laws. He was a trustee for Heifer Foundation and was the 2013 recipient of the Dan West Fellow Award, which honors an individual who shows a personal and professional commitment to helping the poor and hungry throughout the world.
Janet Jones, foundation coordinator for Heifer International and friend of the Mondoras for more than two decades, recalls witnessing Steve and Carolyn's passion for Heifer after a visit to projects and communities in Poland where his ancestors lived. "I will never forget Steve saying, as Carolyn nodded in agreement, 'After being a Heifer donor and supporter for many years, after volunteering here at the Ranch for three years, after working closely with headquarters staff on various projects, after all that, we thought we knew…WE THOUGHT WE KNEW…what a difference one goat can make in a village. We thought we knew. WE HAD NO CLUE. We were stunned by seeing firsthand the impact one goat, a hive of bees, a cow, can make in a community,'" Janet says. "Visiting Heifer project participants reinforced everything they had ever learned about Heifer's work–and more. His words have stayed with me all these years."
With a background in communications hardware and software products, Steve volunteered his technical expertise when it was time to outfit Heifer's headquarters building on Louisiana Street in Little Rock and Heifer Ranch in Perryville with a new phone system. And later, when the Louisiana Street property was purchased by Heifer Foundation for its headquarters, Steve and fellow Heifer supporter Miller Davis left their families in Florida to spend a week in Arkansas remodeling the building for free.
As an on-call volunteer management consultant, Heifer frequently sought Steve's expert advice and intervention on important matters, from developing Heifer's recognizable jumping cow brand and negotiating the organization's move to its current headquarters at 1 World Avenue to working with a search committee to find President and CEO Pierre Ferrari.
"As soon as he knew Heifer, he loved us," recalls Jessica Ford, global communications manager for Heifer International, who regarded Steve as a second grandfather. "He could speak off the cuff about Heifer to ANYONE–and would! He'd cry at the drop of a hat if you got him talking about the projects he visited in Poland and Ecuador. He rallied his entire community to raise money for Heifer and landed on the front page of their monthly magazine."
Steve was also an accomplished trumpet player, who performed with the Gulf Coast Symphony and the Sanibel Community Band. Ardyth Neill and her husband Jerry had the opportunity to hear his "big band sounds" live at a church in Shell Point, Steve and Carolyn's retirement community, last December. "They played Christmas tunes, and it was just wonderful," Ardyth says.
Steve Mondora will certainly be missed. He committed his life to Heifer through both service and resources. And his Heifer legacy will live on. Instead of flowers, Steve's family requests that memorials be made to Heifer Foundation. A celebration Steve's life will take place on Saturday, September 26, at 1 p.m. ET at Covenant Presbyterian Church in Ft. Myers, Florida, and all are invited.